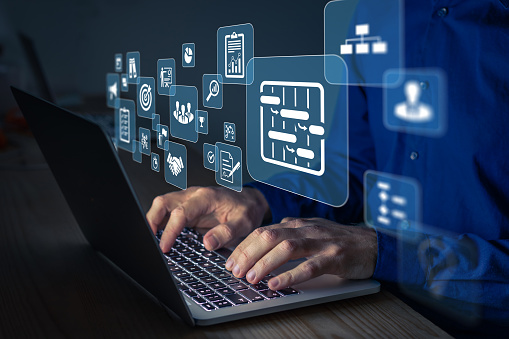 Best Project Management Softwares For Remote Teams
Distributed teams have gained popularity in the last couple of years, with nearshore software development becoming particularly prominent within the IT industry. Still, managing a remote development team can be a challenge, especially if you're new to remote work. That's why we created this article to help you learn about the best project management softwares for remote teams. Good tools make for better teamwork, so let's get right into it!
The 5 best project management softwares for remote teams
ClickUp is a cloud-based project management software that's used by students, freelancers, employees, and business owners all the same. It can help you keep track of deadlines, time spent on working, project tasks, clients, publication dates, and more. You can also check everyone's workload and different goals and milestones. Combine this with a built-in ticketing system and you have a truly solid software to manage remote developers.
This project management software was created especially to simplify the weekly review process of companies of all sizes. With these tools, managers can easily set up one-on-one and team meetings that will be added to everyone's calendars without any extra steps. It makes it easy to track actual measurable results and see the workflow of the entire team and their individual tasks.
This is another cloud-based project management software for remote teams that will help with team collaboration. It connects all members of a distributed team and syncs their tasks so everyone knows the stages of each project. All updates and deliverable edits include detailed notes to provide all necessary information to everyone involved. Because this program is quite user-friendly from the get-go, many teams opt for this project management service to introduce more organization to their distributed teams.
This project management software focuses on global, distributed teams, making it especially useful if you're hiring nearshore developers. It offers fantastic features to help you manage IT risks, automate workflows, and oversee projects from start to finish. These make content, digital asset, product, and resource management much easier and smooth for collaborative work. It integrates with popular workspace apps like Asana, Slack, and Microsoft teams, in just a few simple steps.
What's great about ProntoForms is the fact that they have a no-code mobile application so that every member of your remote development team can stay connected. Another of its differentials is that it integrates with other key business programs, such as Google Workplace and Salesforce. It also provides distributed teams with a workflow builder, personalized analytics, and an integrations manager.
Need help assembling a team of remote developers? We can help!
Whether you need help finding remote developers or managing a nearshore development team, at Blue Coding we ensure you hire the right IT professionals for your company. We provide staff augmentation services and handle all the vetting, interviewing, onboarding, and payment procedures. Contact us today to learn how we can help you hire nearshore developers!