Building Your Business With Outsourcing Featuring Rory Laitila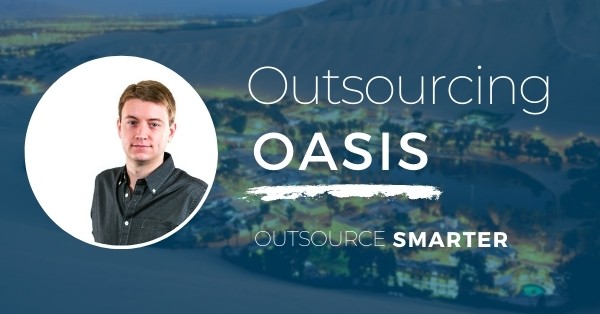 We recently welcomed Rory Laitila, Director of Services at itr8group, to the podcast to share his experience with outsourcing.
Rory is a business-major-turned-software-developer and an outsourcing pro, having used offshore development to launch his first two business ideas before graduating college.
Today Rory operates not only at a strategic level -- he can also get down in the weeds and build database systems and web applications.
He shares with us the valuable lessons he learned on his journey from outsourcing novice to outsourcing pro.
From business major to software developer: how Rory got into tech
Rory surprises David early in the interview when he shares that he actually majored in business in college and is a self-taught programmer. He went on to say that he got into development as a way of stretching his budget early on in his career.
He quickly realized developing an in-depth understanding of software development would help him to be more successful in bringing his business ideas to life.
With that knowledge in hand, Rory got a job at a data center and worked his way up the ranks, developing his knowledge of everything from SysOps and DevOps to database and storage systems.
Early Failures
Rory's first business was an eCommerce car audio site that he took over for a friend back in high school. While in college, he worked with the same developer who built the shopping cart for the eCommerce site to build an engine for a book business idea he had.
That's where he ran into his first outsourcing pitfall…
Plan according to your budget
While at this point he had some prior programming experience, his lack of understanding of the depth of the software delivery process caused him to ask for features that he thought would be useful at the time but later realized didn't make sense strategically given his limited budget.
He had the developer working on long-term scaling features early in the project instead of having them focus on features that would help move the business forward and start generating revenue.
Getting blinded by the sparkle of feature development
Rory shares the story of a company that planned to build a social network for entrepreneurship communities but ended up abandoning the project after spending over 400k in custom development.
After a few months, they didn't have a working product and were running out of budget forcing them to scrap everything and try building the project on WordPress.
That's 400k down the drain because they didn't have a solid understanding of the software delivery process. Instead of having their team focus on building a working product, they ate up most of their budget working on feature development.
You Can't Outsource Vision
Rory says that, for technical founders, "you can't outsource vision. That's a big mistake -- the software developer has to have the same vision as the owner of the company."
When you're dealing with a non-technical founder, two of the most important elements of a successful outsourcing venture are budget and technical ability.
Budget: if you don't have enough budget, the developer won't have enough time to get over the curve of learning your business.
Technical ability: unless you have someone on your team like a CTO who can communicate with the developer and that you trust with your budget, you should work with an agency that can help you manage the project. It's rare to find a developer with both the ability to manage the business side of things and also go out and build your software, but you need both of these things one way or the other. If you don't have someone internally who can help manage the project and your budget, you'll need to find an agency that can help you do that.
To hear more about Rory's unique outsourcing journey and to learn how to build your business with outsourcing, be sure to listen to the full episode below.