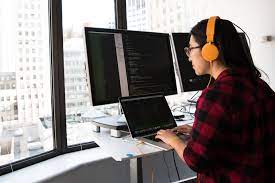 The 5 Most Common IT Staff Augmentation Problems
IT staff augmentation has become increasingly popular over the last few years, with companies from all over the world looking to hire remote software developers. This is clearly evident in how after the COVID-19 pandemic, the IT staff augmentation market grew in size by 132.9 billion USD. Still, staffing solutions can bring their own share of challenges to those new to this hiring model. That's why we're dedicating an article to the most common IT staff augmentation problems and how to avoid them. Keep reading to learn more about the potential challenges of staff augmentation!
The 5 Most Common IT Staff Augmentation Problems
1. Unclear goals and general expectations.
One of the main issues that can arise for those new to IT staff augmentation is poor expectation management. This can occur on both ends of the spectrum, as developers and companies have an equal amount of expectations for the work placement, no matter how different these might be. You need to be clear about what you expect from the new external members of your team, including monthly, quarterly, and yearly results and day-to-day expectations regarding their tasks and responsibilities.
Goals are also an important part of managing expectations. These need to be set on a regular basis, whether they have to do with their daily tasks or quarterly results. Having clear objectives will help your remote developers focus and work more efficiently. Here are the best project management softwares that can help you organize goals and set regular tasks.
2. Poor communication and project management.
A lack of communication can seriously affect the working relationship you have with your external development team. This goes hand in hand with a poor project management system, as both parties end up withholding information from one another and putting a strain on their relationship. You should always communicate with your remote developers, whether that is through a weekly check-in or regular Slack messaging. Though developers need to be encouraged to communicate as well. The best way to go about this is to offer them support and guidance whenever they might need it.
3. Inefficient transfer of institutional knowledge.
Your external development team might work 100% remotely, but they still need to know the company they're producing quality work for. You shouldn't leave them in the dark about the company's usual procedures, development style, social media practices, mission and vision, and overall goals for the future. All this information should be transferred to your incoming developers through a detailed written document. Additionally, you might want to schedule a call with them to guide them through the information. If you fail to transfer this institutional knowledge, you'll probably find the work your new team produces is not up to the company's standards or doesn't meet the style or content requirements.
4. Security issues.
A major risk of hiring nearshore developers without the help of a vendor of IT staff augmentation services is the very real possibility of security threats. These security issues are one of the most common IT staff augmentation problems because staffing involves bringing an external team into your internal procedures. You need to ensure your remote developers are to be trusted to prioritize the safety of your clients and their individual projects, as well as the well-being of your organization. The easiest solution to any potential security issues is the have your remote development team sign an NDA as soon as you hire them.
5. Lack of contract management.
The final one of the 5 most common IT staff augmentation problems is the potential lack of contract management. This happens more often than you'd think and has to do with the contractual obligations of your developer's tasks and their expected stay within your team. It's necessary to delimitate the width of a developer's responsibilities in the contract, as well as their estimated stay in the team. If you're unsure how long you'll want to hire them for, just add a closure mentioning both parties can end the contract with a standard 15-day notice. This simple addition can help you save months' worth of legal trouble!
Are you looking to hire nearshore developers through IT staff augmentation?
At Blue Coding, we understand that IT staff augmentation can be a challenge for companies new to nearshoring. There are different challenges and IT staff augmentation problems that can arise if you don't properly vet your team and adapt to this new management style. That's why we're committed to connecting US-based companies with nearshore developers from all over the world through our IT staffing services. Contact us today to learn how we can help you hire nearshore developers!