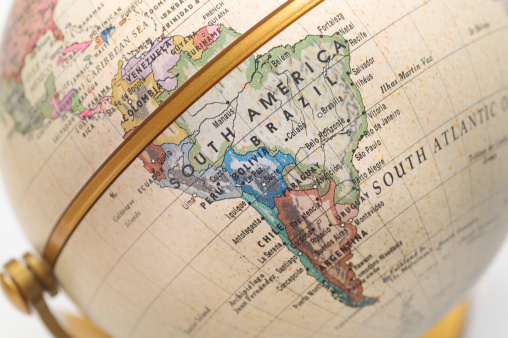 The Best Tech Events In Latin America To Hire Nearshore Developers
Now that our tech event series is nearing its end, we wanted to finish it off with the ultimate roundup of the best tech events in Latin America. You will learn all about the IT and technology events that are most beneficial to attend if you're looking to start nearshoring to Latin America, one from each country included in this series. These events will help you find developers, network with other companies interested in software outsourcing, and familiarize yourself with the nearshore development scene. Keep reading to discover the best tech events in Latin America!
The Best Tech Events In Latin America To Hire Nearshore Developers
This coding conference is held on an annual basis and is organized by the Sociedad Argentina de Informática (The Argentinian Society of Computer Science). It's one of the oldest IT and technology events in Argentina and one of the best tech events in Latin America, usually varying its location year by year. In simultaneous sessions, attendees can present their latest programming projects, discuss industry research, listen to lectures led by experts, and network with fellow colleagues and potential employees. It's an IT event very focused on computer science and programming innovation, where each day is dedicated to a certain area of expertise. Anyone can join, especially now that's offered virtually!
Development Week is one of the best technology events in Mexico, powered by Globant and available to all developers within Latin America. This tech conference in Latin America aims to spread knowledge on the latest IT technologies/innovations and promote networking between developers. There are several speakers focused on different aspects of the software development industry and plenty of opportunities to connect with Mexican developers as well. This event happens in May, and for now, all of its editions have been in an online format. This allows you to easily attend and meet thousands of nearshore developers who would be happy to work for a US-based company!
JIS Uruguay is short for Jornadas de Ingeniería de Software del Uruguay - Uruguay's Software Engineering Conferences. This tech event in Uruguay used to be in person but has now been moved to a remote format due to the events of the COVID-19 pandemic. Speakers from all over the world and developers from several countries within Latin America attend this IT and technology conference. This means your company will have the opportunity to network not only with Uruguayan developers but also with technology companies that can be valuable assets for future collaborations. The event usually takes place during November and lasts an entire day.
It's easy to notice The Dominican Republic is the technological hub of the Caribbean. Most regional coding conferences are part of the best tech events in Latin America, as it boats the biggest tech hubs in the region. The Technological Fair of The Caribbean is no exception, as it involves all the IT titans of the region and is hosted in Santo Domingo every year. This tech event in The Dominican Republic is focused on building an innovative business environment focusing on IT and digital marketing. Every year there are multiple lectures, workshops, tech showcases, and networking blocks open to all attendees. This event usually takes place during November, so be sure to free a few days of this month to join the conference!
This is an international technology fair that specializes in the Latin American innovation, logistics, and technology markets. Its attendance is mostly made up of specific audiences interested in these fields, the educational community, and IT professionals. Edutechnia is one of the tech events in Colombia that holds a space for innovation, education, and networking that mixes both the public and private IT sectors of the country. Besides meeting nearshore developers in Colombia, you or your team will learn about the latest educational advancements and digital technologies.
Expo Tech Innovation lima is a tech event in Peru that's centered around technological innovation, including telecommunications, software development, robotics, and cybersecurity. It's a very business-oriented event that looks to encourage innovation and digital advancements in business, especially within Latin America. This IT conference in Peru usually takes place during June and features prototype products, national speakers, and a large community of local IT professionals looking to learn and make valuable connections.
Andina Link is an international tech conference in Costa Rica that brings together technology and telecommunications professionals from all over Latin America. It has taken place for over 25 years and thanks to its long trajectory it has distinguished itself as one of the best IT and technology events in Costa Rica for networking purposes. There are technical workshops, networking events, and academic sessions available to learn more about the local and international industries. This event lasts three days and usually takes place in San Jose, Costa Rica, during the first few days of September.
This is the biggest scientific and technological conference in Central America and is amidst the more recognized tech events in Latin America. It aims to encourage networking between scientists, developers, IT companies, and tech professionals looking to share innovations and advance the local industry. The event is hosted by APANAC (the Panamanian Association for Science Advancement) and is currently offered in a remote format, making it easier for US-based companies to attend. As one of the most long-standing tech events in Panama, it boasts over 18 versions of this IT conference and attracts professionals from all corners of the world, not just Latin America.
TDC is Brazil's biggest software development event, so it's the ideal spot to scout for nearshore Brazilian developers! This is a dynamic conference with the aim of keeping everyone up to speed with the industry's latest trends and innovations. There are five different editions of this event in Brazil per year, with locations in Florianópolis, São Paulo, Porto Alegre, Recife, and Belo Horizonte. This means there are plenty of occasions for your team to attend! In fact, companies can even become TDC sponsors to gain a wider reach to the local developers. You can learn more about that here.
This international conference takes place in Ecuador every year but has now been moved to a remote format thanks to the events caused by the COVID-19 pandemic. This is one of the tech events in Ecuador that aims to bring together top researchers and practitioners working in the fields of Information and Communications Technology for the poor use of expanded collaboration. This tech conference in Ecuador has both a research and industry track to develop different theories or put innovative ideas into practice. Attendees should expect this event to last two days and be conducted in a hybrid format, giving US-based companies more flexibility to attend.
Chile Connected is a local tech and innovation showcase and one of the broader tech events in Chile. This coding conference is the perfect place to meet with the latest Chilean developers and tech startups, as it's denominated as a networking event from the start. There are plenty of chances to speak to founders of Chilean startups and local developers to make new connections within the industry before you start software outsourcing to Chile. This event is open to anyone and attendees receive a list of Chilean companies who will be presenting their businesses and looking for strategic connections. It takes place during December and has now been moved to an online format, but stay alert in case it goes back in person in the future.
Are you interested in hiring nearshore developers in Latin America?
While attending tech events in Latin America can help you scout for nearshore developers, sometimes it takes more than that to hire the right person for your team. At Blue Coding, we can help you find software development candidates with a strong English proficiency and coding expertise. Contact us to learn more about how we can help you start nearshoring to Latin America!