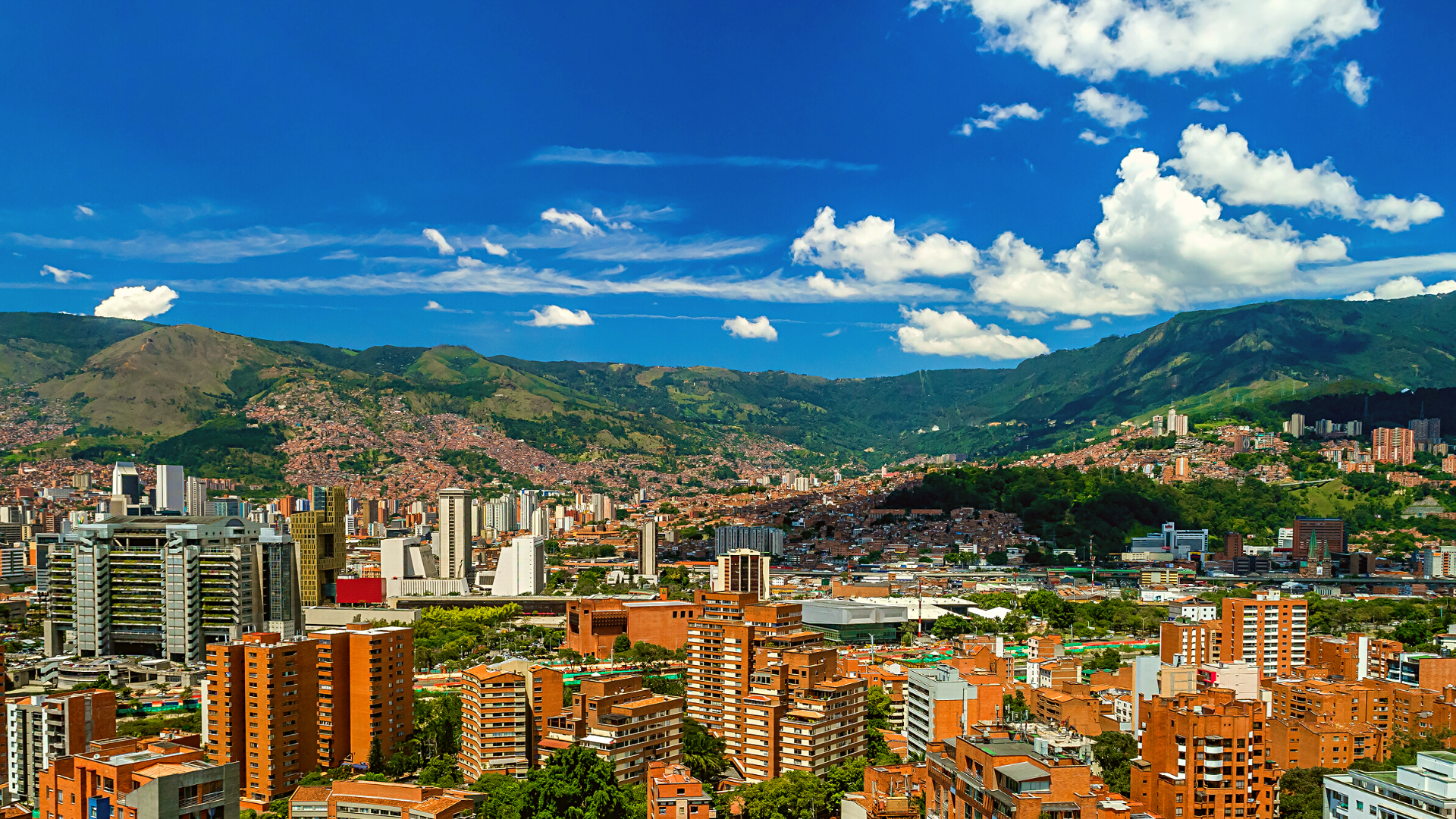 How to start outsourcing software development to Colombia

How to start outsourcing software development to Colombia
Colombia, the land of delicious coffee and colorful landscapes. You're probably familiar with famous Colombian artists as well, such as Sofia Vergara and Shakira. This country has always been a prime tourism destination, but now it has started to position itself as a top nearshore outsourcing destination. With a large pool of talented Colombian software developers ready to tackle any coding project, nearshoring to this neighboring country makes all the sense for US-based companies.
Since Colombia is within the Eastern Standard time zone all year round, your in-house team can always work with Colombian developers in real-time. Pair this with significant physical proximity to the US (just 4 hours by plane!) and it's easy to see why working with nearshore developers from Colombia ensures a smooth outsourcing operation. Let's dive into all the details of outsourcing software development to Colombia!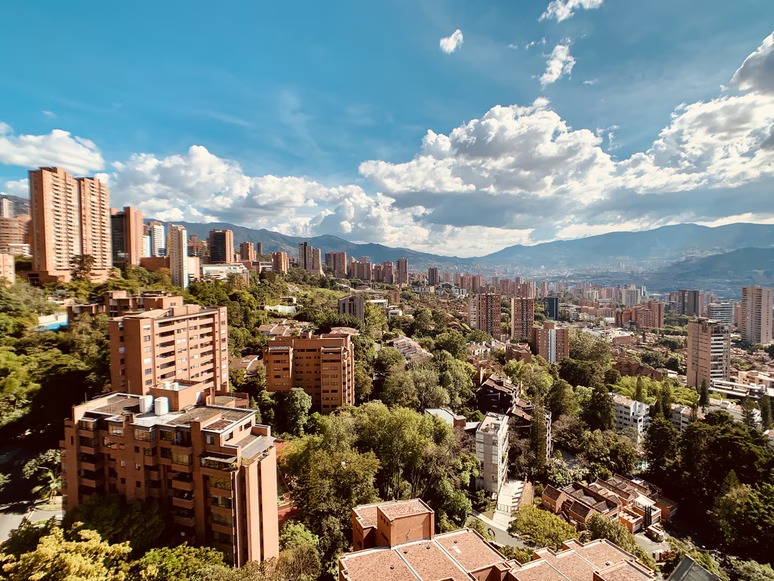 A brief overview into software development in Colombia
Colombia's economy has been growing for over a decade. After the country underwent a massive transformation, it emerged as a strategic destination to do business in Latin America. In fact, it was named the fourth friendliest country to do business within that region by Doing Business 2018. Its economy has also seen overarching growth, expanding at an outstanding 3.8% on average from 2010. Even more, Colombia's GDP is expected to increase by 3,6%-4.0% nearing the end of 2021.
The software development scene in Colombia has flourished under all of this recent growth. Back in 2014, the government launched the new Bring IT On campaign to promote growth within the IT industry and position Colombia as a technological hub within Latin America. Ever since that transformation, Colombia's coding and technology scenes have expanded more than 170% in the last five years! As of 2018, the country already had more than 64,638 software developers according to Stack Overflow. That makes them the Latin American country with the fourth-biggest talent pool! Overall, Colombia has a solid IT ecosystem and the second-best technological infrastructure in the region.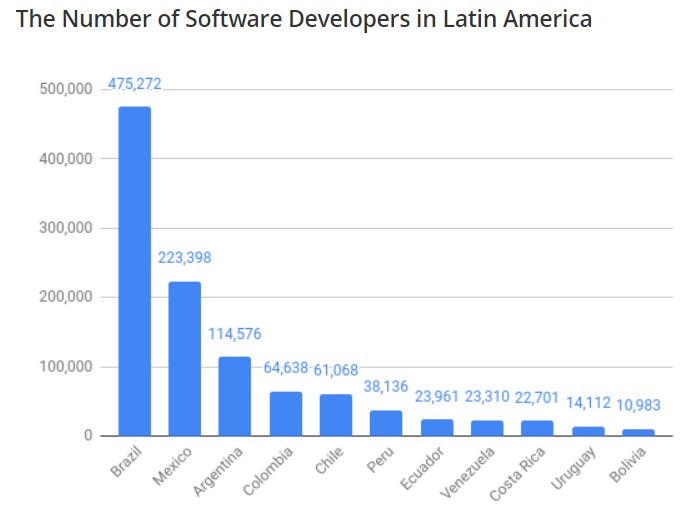 (Colombia Software Developers, Outsourcing, and Top Development Talent Report | TECLA)
Software engineering education in Colombia
Software engineering education for Colombian developers is significantly higher quality than in several other Latin American countries. This is thanks to the number of national initiatives aimed to produce a new generation of qualified coders. The government itself has stated that its goal is to become the most educated country within Latin America by 2025. And at this rate, we can see it coming to fruition. This vast governmental support for the IT industry has expanded software engineering education in the country. In consequence, Colombia ranked seventh of all Latin American countries in the 2018 Global Talent Competitiveness Index.
As per recent data, Colombia is producing the highest number of new software developers of all of Latin America. With about 13,000 new educated coders and IT professionals a year, your company is bound to be successful in hiring nearshore developers from this country. Even more, Colombia currently spends around 4.4% of its GDP on education. That's a striking number sure to bring incredible results in the upcoming years!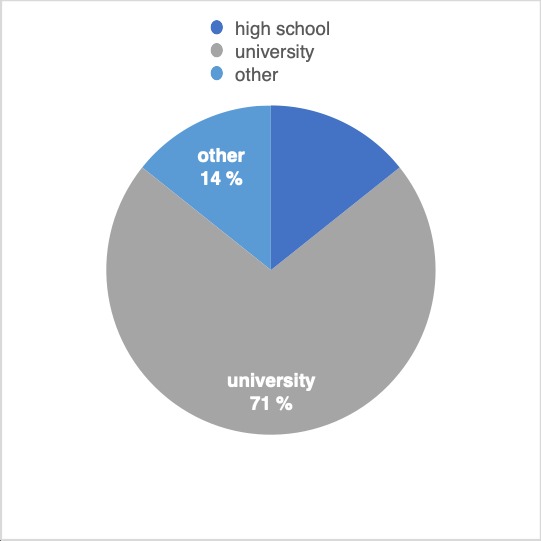 (Hiremotely - Evaluation of Colombian Software Developers)
Colombian software engineers have over 30 leading universities and technology centers to choose from to educate themselves on all things coding. Many of the higher education programs available have a strong focus on innovation and are conceptualized to attract a newer generation of qualified Colombian developers. Though there are also several online courses and tertiary institutes available for those who choose not to or are unable to access university degrees. Because of its sturdy IT educational scene, outsourcing software development to Colombia is a safe bet in terms of finding educated nearshore developers.
Overall English level of Colombian developers
Colombia is committed to educating all of its newer generations on the English language. Since this country aims to become an international business hub, the government understands the importance of having a population that's fluent in English. Because of this, Colombia's goal is to become a fully bilingual country by 2025. To achieve it, the country has already put into place its "Foreign Languages Competencies Development Program", with mandatory English classes for all students from the beginning of primary education.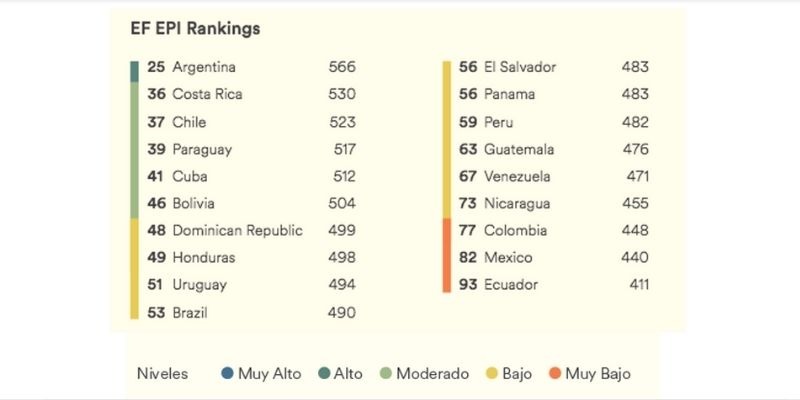 (EF EPI Rankings - Latin America)
Though Colombia ranks poorly on the EF English Proficiency Index, with a "very low" English rate, this doesn't mean Colombian software engineers have a poor English level themselves. Because English is used for several coding processes, most Colombian developers are fluent or at least advanced in their skills for this language. Still, we test the English proficiency of all nearshore developers we work with to ensure they have the necessary skills to start nearshoring for US companies.
Most popular coding languages for outsourcing software development to Colombia
Most popular programming languages with software developers in Colombia:
Java
Python
Perl
Kotlin
HTML/CSS
Ruby
MSSQL
Visual Basic
WordPress
PHP
Django
React Native
Angular
Laravel
Symfony
Other coding languages often used by Colombian software developers:
Flutter
CodeIgniter
Objective C
Clojure
VueJS
Swift
Ionic
Struts
Sinatra
Flask
Node.js
C
C++

How to find remote software developers in Colombia
Nearshore outsourcing and staff augmentation firms: Outsourcing software development to Colombia can be tricky if you don't know the ins and outs of hiring nearshore developers in Latin America. That's why working with a firm that provides nearshore software development services ensures you a successful nearshoring experience. Nearshore outsourcing firms like Blue Coding (that's us!) handle all the different procedures for you. This means you don't have to deal with any of the onboarding, payment, or hiring processes!
Personal referrals: Referrals are the direct way to learn more about a potential nearshore software developer from someone who has partnered with them previously or heard of their talent. Because it's a recommendation from someone you already know, there's a higher chance of hiring that Colombian developer within a reduced timeframe. Request a referral from your contacts in Colombia or in Latin America to start outsourcing software development.
Online job boards: Job boards are meant to help nearshore software developers and tech companies find one another. So post about the open position on a Colombian job board dedicated to remote software development. You will surely hear from Colombian software engineers within a few hours!
Local events (both virtual and in-person): Colombia has a bustling software development community. Coders get together both online and in-person to talk about new technologies, educational offers, and job opportunities. So join one of their virtual or in-person events as a potential employer or send a small team to their conferences to start hiring nearshore developers from this country.
Online software development communities: Colombian developers spend a lot of time online sharing all things software development. Online communities in social media, such as LinkedIn, Facebook, and Reddit, are booming in popularity ever since the pandemic started. There are also a few independent online forums available. See if you can post a job ad in one of these communities, it'll certainly gain some traction if you're offering a competitive package.
How to hire Colombian software engineers through nearshore outsourcing
Hire directly through GEO or PEO: Global employment organizations and professional employment organizations are a form of nearshoring. Just take into account the addition of a heavily present third party. These organizations take care of hiring nearshore developers and usually charge the total cost of the Colombian developers' salary, benefits, and a 10% fee for their nearshoring services.
Hire through a nearshoring firm: Nearshoring agencies bring the most return of your investment when outsourcing software development to Colombia. At Blue Coding, we have a careful vetting system and several quality standards. Moreover, we oversee all the recruitment and payment details when working with nearshore developers from Colombia. We take the complicated procedures off your plate to give you the chance to hire the Colombian developers that are right for your business.
Hire an independent contractor: If you don't want to deal with any third-party firms, hiring a Colombian developer as an independent contractor is your best bet. Still, it can take a long time to find the right candidates to join your in-house team as nearshore developers. Try to search for Colombian software engineers through LinkedIn and analyze each profile to see who might be the best fit. Just be patient and ask the right questions before hiring nearshore developers this way!
Hire using popular freelancing platforms: UpWork and Freelancer are two of the most popular freelancing platforms for hiring nearshore developers in Latin America. They facilitate payments and time management procedures, but they also get a considerable share of the salaries of Colombian nearshore developers. So don't be surprised if the rates are higher than expected! There are better options to these platforms, so here are some alternatives for hiring remote software developers in 2021. We recommend working with a direct contractor or hiring a nearshoring firm!
Set your own local company: If you want to start outsourcing software development to Colombia but nearshoring isn't for you, this is an ambitious alternative. By setting up your own local company, you can expand your in-house team and establish your presence in the country. With a Colombian subsidiary of your US-based business, you can hire local coders at a lower cost than American developers. Just make sure you are complying with all Colombian employment regulations from the get-go to avoid any legal issues!
Salaries for nearshore software developers in Colombia
One of the primary advantages of hiring Colombian developers is the convenient conversion of Colombian pesos into US dollars. It favors US-based companies, skyrocketing the return of investment of hiring nearshore developers. To give you an idea of the financial benefits, the costs of hiring nearshore developers from this country can be up to 35% lower. That's why outsourcing software development to Colombia can be so cost-effective!
Here's the scoop on the average salaries for nearshore developers from Colombia:
Junior developers: $3000-$4000 USD per month.
Mid-level developers: $4500-$6000 USD per month.
Senior developers: $6000-$8000 USD per month.
If you are hiring Colombian developers through nearshore software development services, please note there can be an up to 40% increase in the rates described.
Ready to start outsourcing software development to Colombia? We can help you hire Colombian developers!
Blue Coding is a software development outsourcing company dedicated to helping you find nearshore developers to work alongside your in-house team. Starting in 2014, we have helped several US tech companies hire Colombian software engineers through our staff augmentation and direct placement services. We also have a complete series about outsourcing software development to different Latin American countries. Last week we dove into hiring nearshore developers from Chile! Check out our blog to find more guides about nearshoring to Latin America and other practical tips for remote software development teams.
We work with a talented network of remote professionals from different nearshore outsourcing destinations. All of them have carefully been vetted according to our standards! We can help you hire nearshore developers from Colombia and all of Latin America. Contact us today to learn more about finding Colombian developers and nearshoring your coding solutions!