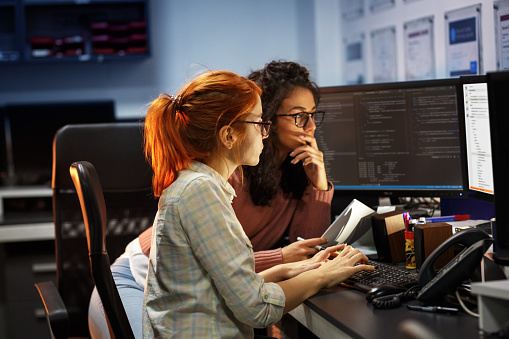 Why Are No Nearshore Developers Joining My Company?
In the era of staff augmentation and nearshore software development, many companies are turning to outsourcing when it comes to their coding solutions. Still, sometimes it can be a challenge to attract quality nearshore developers to your teams. Considering that roughly 300,000 US jobs are outsourced on an annual basis, there's a lot of competition for those looking to hire the best remote talent.
Several of our clients have come to us asking why they just can't seem to hire nearshore developers. This happens because no IT professionals want to join their company, even after a round of interviews. While they think that situation is some kind of one-off disaster, there are actually a lot of common patterns that might drive talent away from your organization. That's why today we decided to let three of our very own developers take the lead and tell you their honest thoughts about the matter. Keep reading to learn why nearshore developers aren't joining your company!
This inside scoop answers the question "Why can't I hire nearshore developers?"
1. Name:
Jean.
Angel Cordova
Gustavo Monteiro Menezes
2. What would you say are the top 3 red flags that could appear on a job posting?
Jean:
Payoff not included.
Impossible experience required.
Boring.
Angel Cordova:
A super long list of requirements.
A copy-pasted-from-another-post description.
Vague compensation information.
Gustavo Monteiro Menezes:
Not showing the salary range.
Asking for more skills than it's really required for the position.
Not offering any time off.
3. What kind of behavior/conditions would make you stop considering a job while on an interview for it?
Jean:
Bored/indifferent interviewer, scripted dialogue.
Angel Cordova:
Being shady/defensive about compensation or defensive about compensation/salary.
An automated code challenge with very difficult exercises.
When you don't have a clear idea about how long the process can take.
Gustavo Monteiro Menezes:
Working with no time off or a bad salary.
4. When working for a company, what's more important? In an ideal situation, what does that company look like?
Jean:
Not too big, not too small, Well organized, welcoming/helping attitude.
Angel Cordova:
A good perspective on the future (growth, many clients, stability). Being mindful of employees' needs. Work-Life balance and A great salary, of course.
Gustavo Monteiro Menezes:
A good mentor and a clear work process. A company that measures the work by what we are doing and producing not just by the time we are available. Always giving something for the employee to do and mentoring how it should be done.
5. What benefits are "dealbreakers" for you to join a company looking for nearshore developers?
Jean:
I don't know.
Angel Cordova:
It depends, If I already have a job, salary is the most common deal-breaker. If what they offer doesn't represent significant growth, why bother even listening to the opportunity. Else, I focus on the things I consider important. (see the previous question).
Gustavo Monteiro Menezes:
Good money
Time flexibility
Vacation
Health Insurance
6. What would you say to someone asking why are no nearshore developers joining their company?
Jean:
Learn how to inspire.
Angel Cordova:
Well, I would ask if they are aware of how the market conditions are for devs right now. companies are offering better salaries with better conditions each time.
Gustavo Monteiro Menezes:
You should offer good money and time flexibility.
7. What type of work environment do you expect when working remotely for a company?
Jean:
Flexible, friendly, and goal-oriented.
Angel Cordova:
Relaxed but challenging. With independence and flexibility to work at different hours and based on results. Also, a place where I can learn new things and where I feel my collaboration is helping the company reach its objectives.
Gustavo Monteiro Menezes:
Daily meetings where people can connect with each other and align the work. It's good to know who to reach out to ask for help. Always have some work to do.
Do you need help hiring nearshore software developers in Latin America and all over the world?
At Blue Coding, we understand that finding top nearshore developers can be a challenge. That's why we offer staff augmentation services and work hard to connect US-based companies with remote IT talent. Contact us today to learn more about our services!