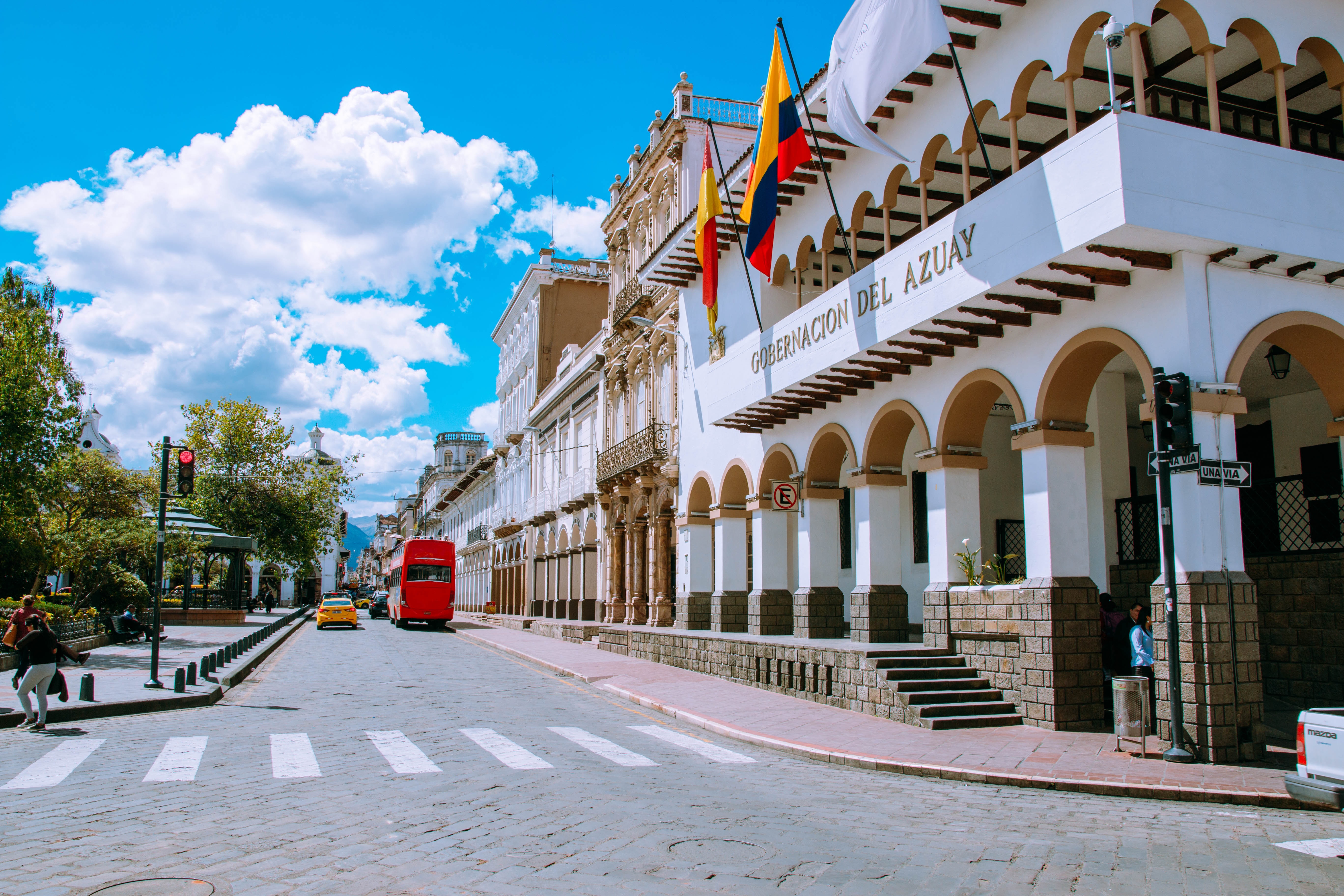 How To Hire Nearshore Software Developers In Ecuador
Now that nearshoring has become increasingly popular with US-based companies, Latin America has positioned itself as the most optimal region to start nearshore outsourcing. There are several fantastic countries to choose from within this area, but Ecuador is the option we're focusing on today. This country might be small but its nearshore software development potential is certainly considerable!
Ecuador is known for the Galapagos Islands and its historic links to the Incas, though the country also thrives in more technical endeavors. Its tech industry has undergone interesting growth and the country has seen an increase in its exports in recent years. Everything indicates this will be a great place to nearshore outsource software developers for years to come. So let's see how to hire nearshore software developers in Ecuador!
An overview into software development in Ecuador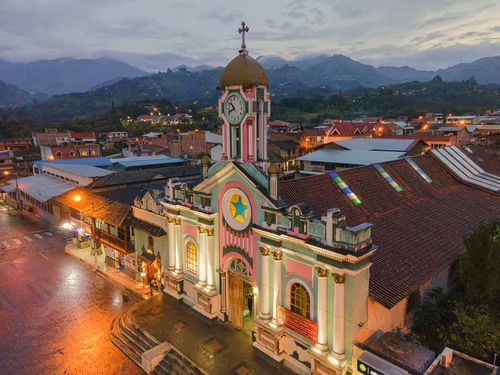 Quito is Ecuador's capital and has a relatively small population of 2.7 million. Though not as numerous as some of its Latin American counterparts, it has a consistent history of software development outsourcing and is a local tech hub. Quito is home to Ecuador's entrepreneurial scene and tech industry, powering several local developers throughout the years. Thanks to the great concentration of developers in tech hubs like Quito, the country has shown promise for nearshore software development!
A 2014 study put together by the Software Association of Ecuador showed that over 32% of software development sales corresponds to international exports. Considering this was several years ago and Ecuador is still viewed as a top nearshore outsourcing destination, it's safe to say the number of exports has only grown over time. In fact, according to the Global Innovation Index, Ecuador ranks #33 among the 37 upper-middle-income group economies and #99 out of the total 130 countries. This is yet another sign that Ecuador is an ever-growing nearshore location!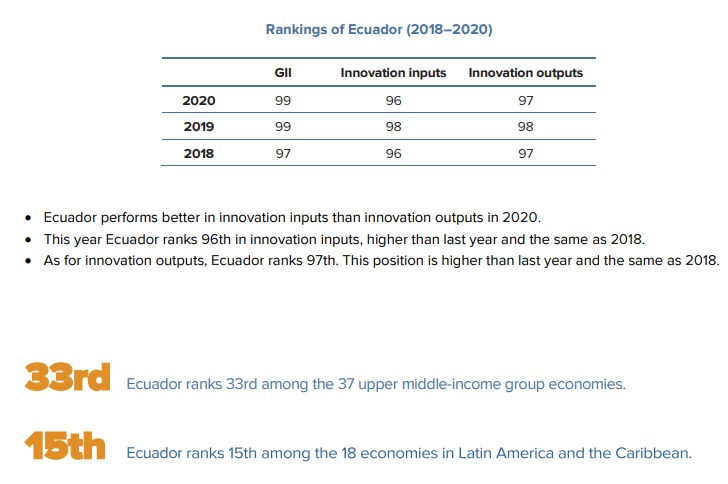 Overall English level of Ecuadorian developers
Ecuadorian developers know the importance of having an advanced English level in order to thrive in the coding field. Still, Ecuador doesn't have a strong EF English Proficiency Index score. The country ranks #90 out of 112 countries, with a very low English proficiency. Its overall EF EPI score is 440 and it's at the bottom of the Latin American rankings. Yet this shouldn't discourage you from hiring nearshore software developers in Ecuador! You'll have no trouble finding programmers with a strong command of the English language. Plus, you can always test their English skills through a live technical interview or coding assessment.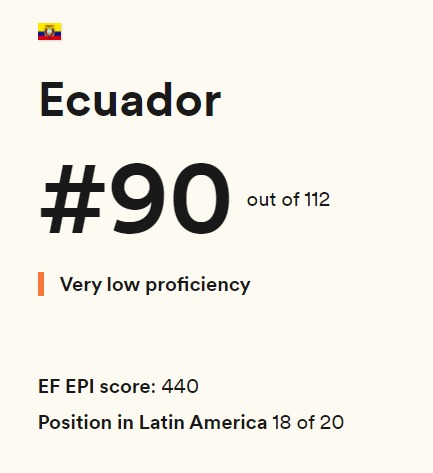 Software engineering education in Ecuador
Overall, Ecuador boasts 49 technical certificates and undergraduate degrees within the programming field. The country has strong universities and a good variety of traditional colleges and tech institutes that developers can choose from to perfect their coding skills. In addition, the government also supports the educational growth of future developers. The recent Scratch Day Ecuador initiative boosted the computer programming skills of several children all across the country by providing free coding training at all local schools.
Remote education has also soared in popularity these years, leaving a positive impact on the training of nearshore developers worldwide. There are dozens of online courses, free internet resources, and hybrid coding boot camps aspiring Ecuadorian developers can learn from. When you hire nearshore developers in Ecuador, you'll have no trouble finding educated and skilled programmers!
Most popular coding languages for Ecuador software outsourcing
Ecuadorian developers are always ready to innovate and learn the newest coding languages. Therefore, nearshore developers from Ecuador are usually proficient in several coding languages and can help in a variety of coding projects. Here's a quick overview of the programming language scene when outsourcing software development to Ecuador
Most popular programming languages with nearshore developers from Ecuador:
HTML/CSS

Java

Python

Perl

Kotlin

Ruby

MSSQL

Visual Basic

WordPress

PHP

Django

React Native

Angular
Other coding languages often used by Ecuadorian developers:
Flutter

CodeIgniter

Objective C

Clojure

VueJS

Swift

Ionic

Struts

Sinatra

Flask

Node.js
Software developer salaries in Ecuador
Because the living costs in Ecuador are lower than in the US, the salaries for Ecuadorian software developers are more affordable than those of American coders. This is one of the most competitive advantages of nearshoring developers in Ecuador and all of Latin America! Here are is an estimate of the salaries for nearshore developers in Ecuador:
Junior developers: $3000-$4000 USD per month.

Mid-level developers: $4500-$6000 USD per month.

Senior developers: $6000-$8000 USD per month.
If you are hiring Ecuadorian developers through nearshoring agencies, please consider there will be an up to 40% increase in the rates described above.
Where and how to find Ecuadorian software engineers when nearshore outsourcing
Nearshoring firms: A staff augmentation agency can really simplify the process of hiring Ecuadorian software developers. Companies that provide nearshore software development services have years of experience hiring developers in the region. This gives your nearshoring project a considerable amount of stability and safety. That's because nearshore outsourcing firms like Blue Coding (by the way, that's us!) take care of recruitment and payments for you. That way your company only has to worry about vetting the potential candidates!
Online job boards: Job boards are still pretty much alive and thriving. They're popular with nearshore developers who want to find employment opportunities with international companies. Because of this, it's always a good idea to post job ads on these job boards when there are openings available within your company. This helps to attract developers from Ecuador and other parts of Latin America!
Online coding communities: Ecuadorian developers take part in different online forums and social media communities dedicated to all things software development. Latin America is known for the warmth of its people and this includes all working professionals. Online communities in social media, such as LinkedIn and Reddit, became even more popular ever since COVID-19 started. They're another strategic place to post job ads!
Personal referrals: If you know somebody inside the coding industry, asking for a referral will really speed up the recruitment process. Since you'll be interviewing someone you already heard of, you can ask more technical questions and get straight to the point. So it's always smart to ask your close contacts for a referral to hire nearshore software developers in Ecuador more efficiently.
Local events (both virtual and in-person): Ecuador has a few popular coding events per year! Before the pandemic, these used to be exclusively in person, but now they have moved to a remote-friendly approach. Programmers take advantage of these events to talk about new technologies, educational resources, and employment opportunities. They'll be glad to connect with a US-based employer!
How to hire nearshore software developers in Ecuador
Hire developers through a GEO or PEO: Global employment organizations and professional employment organizations still count as nearshore outsourcing. Your company will be hiring Ecuadorian developers through a heavily involved third party. These organizations handle the recruitment process and usually charge the total cost of the developers' salary, benefits, and a 10% fee for their services.
Hire by partnering up with a nearshoring firm: Nearshore outsourcing firms are the most cost-effective option when getting into Ecuador software outsourcing. At Blue Coding, we work with a carefully vetted network of skilled nearshore developers who are rapidly available for hire. We take the complications off your plate to help you hire Ecuadorian developers as fast as possible!
Hire a direct contractor: If you want nearshoring to be as straightforward as possible, an independent contractor will be your best option. Still, these types of freelancers aren't so easy to find and recruit. Most of them are working on plenty of projects at the same time or associated with a freelancing platform. So it can take a long time to find the right candidates to take care of your software needs! Though searching for these software engineers through LinkedIn is the easiest route to take if you still want to go for it. Just be patient and do market research before hiring nearshore developers as direct contractors!
Hire using freelancing platforms: UpWork and Freelancer have been in the minds of most freelancers since the beginning of the pandemic. These are two of the most popular freelancing platforms for Ecuador software outsourcing. When you hire nearshore software developers in Ecuador through them, you get extra time management tools and a simplified payment scheme. Still, these platforms get a cut of your developer's salary, so rates tend to be higher than through direct contractors. There are better options, so here are the best alternatives to UpWork for hiring nearshore software developers in 2021.
Put together a local company: Sure, this is an ambitious endeavor. But if your goal is to expand your in-house team and establish your presence in the Latin American region. With a local subsidiary of your US-based company, you can hire Ecuadorian developers at a lower cost than American coders. Though it's 100% necessary you comply with local regulations from the get-go to avoid getting in trouble with national authorities.
Interested in how to hire nearshore software developers in Ecuador? We can help you find them!
At Blue Coding, our mission is to help you find nearshore developers to provide all of your coding needs. We help you perform a smooth integration of your in-house and nearshore teams, making staff augmentation easier. Ever since our beginnings in 2014, we have helped many US-based companies hire nearshore software engineers through our direct placement and staff augmentation services. We also have a complete article series about nearshore outsourcing to different Latin American countries. Last week we detailed everything about hiring nearshore developers in Peru! Head over to our Blue Coding blog to read through more insider tips about nearshoring and remote software development!
Our placements come from a large network of talented nearshore developers proficient in different coding languages. Every one of our coders has carefully been vetted according to the highest industry standards and tested to evaluate their English proficiency. We can help you hire nearshore developers from Ecuador and all of Latin America. Contact us to dive into how to hire nearshore software developers in Ecuador!