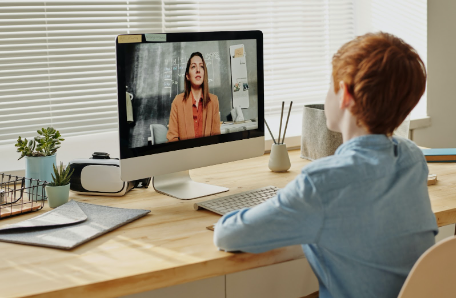 IT Recruiting: The Best Practices For Remote Interviews
In 2020, the Covid-19 pandemic caused global lockdowns, resulting in a widespread rise in the work-from-home (WFH) concept. Although the pandemic is at a low now and lockdowns aren't very frequent, the concept of working from home is here to stay. As per a survey, it has been reported that about 61.9% of companies prefer a remote work environment for now and also for the future. With IT outsourcing still on the rise, it's important to know how to properly interview remote developers to make the proper hiring decisions.
The concept of remote interviews has also become extremely common now as it saves the candidate cost and time traveling to the interview site. These are conducted majorly by companies who prefer to outsource nearshore or offshore experts for their short-term projects or even full-time remote employment. The process of remote hiring candidates can be a bit challenging, but this article will guide you on how to conduct remote Interviews efficiently, whether it's for an onshore candidate or nearshore. The process of remote hiring can be summed up in a few simple steps. The procedures are: creating a job post with all the relevant information and requirements, shortlisting the ideal candidates from the pool of applications, conducting remote interviews, and sending an offer letter to the chosen candidate.
Best Practices for Remote Interviews
Once you have shortlisted the candidates that you want to interview, craft a schedule for each interview. The basic strategy is to allot at least 30 minutes to each candidate, even if you are certain that the interview will take about 10 to 15 minutes. Having extra time between your meetings comes in handy in case of a software glitch or connection issues. Aside from this, the following points summarize some remote interviewing best practices.
Superior Quality Communication Software and Hardware
When any kind of online communication is involved in the workplace, it is extremely critical to have top-notch communication tools and accessories. Using communication software that lags and malfunctions frequently represent poor work conditions and disrupts conferences and interviews. Opting for a remote interview over the video is recommended instead of just audio, as this helps better understand the candidate's profile. Technological tools to support recruiting are actually part of the key 2023 IT hiring trends, as they make the entire process more effective and easy to handle.
IT Recruitment Collaborative Tools
When it comes to recruiting technical experts, a little more than just a questionnaire is required to understand a candidate's skill set in a remote interview. Collaborating with the candidate on a whiteboard app or a coding platform can be a great way to discuss ideas when interviewing for a remote software developer job. Some of the best collaborative tools are GitHub, CodePen, and Miro.
Limit the Number of Interviewers
Having multiple interviewers during an interview not only makes the candidate anxious and nervous but may also cause connection issues and disturbance in the call performance. If a candidate has to be interviewed by more than one person, the suitable method is opting for the transition strategy. This is when you appoint a host to the call who manages the entire interview. Once the first interviewer has conducted the interview, the host adds the next interviewer to the conference.
Prepare a Questionnaire
Knowing exactly what you need to discuss and ask the candidate helps save time and awkward moments. If you prepare a questionnaire and a list of things you need to talk to the candidate about, you can swiftly and smoothly wrap up your interview. For example, if you are to interview candidates for an HTML project, have a list of the ideal interview questions for an HTML developer. This, in turn, helps to fit in more interviews in a single day and speeds up the hiring process. Before the interview, make sure you keep a printout of the questionnaire and a copy of the candidate's resume with you.
Interview Process
The interview should be planned in a way that you are able to achieve your goal of getting to know the candidate's background and skills. Start the interview with an introduction of yourself and your company or business. List out the company's goals and how the hired candidate is expected to help in achieving these goals. Let the candidate know the responsibilities of the position as well. Next, ask the candidate relevant questions about their experience, why they would like to be a part of the team, and what makes them stand out from other similarly experienced candidates. Next, use the questionnaire to ask all the necessary questions you prepared beforehand. Wrap up the interview by asking the candidate if they have any questions for you and in the end, let them know that you will contact them shortly with a response.
Respond Timely
After the selection of a candidate, it's vital to respond to all the candidates you interviewed. Sending back a rejection, along with a brief explanation of why you didn't move forward with them, helps the candidate in improving themselves. Not responding at all may cause candidates to leave negative reviews of your company which can lead to a bad reputation for your company. A firm that becomes widely known for not responding to candidates after interviews can be frowned upon and be considered an unhealthy workplace with poor work ethics.
Outsource IT experts with Blue Coding
Finding IT recruits and remote software developers can be challenging and time-consuming and doesn't always end with you managing to hire Latin American developers. Hence, Blue Coding takes the reign to tackle the hectic and lengthy process for you. We have a massive team of IT experts and highly skilled software developers ready to assist you 24/7. Our specialty is providing top-notch nearshore IT recruitment services in Latin America. Protecting your company's confidential data and intellectual property is our priority; thus, a security breach is not a risk when collaborating with Blue Coding. Contact us now to learn more about our nearshore custom software development services!